If it's your intention to reach a website which provides you with All Things Family Reunion, CONGRATULATIONS!!!…You've succeeded!!!!
Welcome to All-Things-Family-Reunion, a new name, new voice and new face on the web in the family reunion niche. As the name implies, this site will provided you with all things family reunion…from planning to implementation, from locations to destinations, from invitations to tshirts, from games to gifts, from quotes to themes, from activities to entertainment, from decorations to equipment, from tips to resources, from advice to articles…and so much more.
A family reunion can be an absolute blast when executed correctly. However, on the flip side, a family reunion can not only be a complete disaster or nightmare but can also be very stressful and challenging in terms of planning and execution if you don't know where or how to start. Also, it can be boring, dull, monotonous, and unexciting if fun,interactive and engaging activities for all ages are not implemented through out the span of the reunion.
Ask me how I know? I'm so glad you asked! The answer is simple…"been there, done that". Thirteen years ago, I started my family's family reunions. Although I stepped up to challenge with a great deal of event planning experience and although there were commonalities between planning a family reunion and planning other types of events, I found that a family reunion was in a league all of its own, especially in terms of fun and unique ideas…things that would set your family reunion apart…things that would give your family reunion the "wow factor"…which in turn would leave family members with great expectations and so looking forward to the next family reunion.
This was the case with my family. After the first and subsequent family reunions; family, friends and other associates alike began to request my assistance with all components and aspects of successful family reunion planning.
I noted, however, that the most requested assistance and information was regarding ideas for making the reunion fun, unique, different, and distinctive as this had become a staple for our family reunions. Due to the astounding response, overwhelming requests and positive feedback as well as encouragement from family members, this website was created as a means and tool for me to share my knowledge and expertise with others; with a special emphasis on fun and unique family reunion ideas.
Just as Rome wasn't built in a day, neither is/ nor will be All Things Family Reunion. Remember, this site is the new kid on the block and while my ultimate goal is to build a global community where all things encompassing a family reunion can be shared, this site is still a work in progress. Don't see what you're looking for right now?…No worries…stay tuned…it's coming soon! In the meantime, go ahead bookmark this site and check back frequently as new content will be added regularly.
Thank you for taking time to visit All Things Family Reunion! I hope that you will find this website valuable and resourceful. I lift my glass of ice tea and propose a toast to you…"Here's to the best family reunion ever!"
Let's Get Connected Around The Web!
Below is my online business card.  Visit and Connect with me all around the web.  Simply click the links on the card's navigation bar or click on the social media icons on the card.  Like, Follow, Subscribe or just drop in to same hi.  I'd love to hear from you and would love the visit.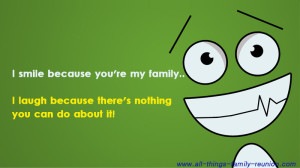 Family Comes First!
Whitney Houston joined her mother Cissy Houston, cousin Dionne Warwick and other family members to record a song entitled "Family First". The lyrics are profound and speak volumes – Family Comes First.
"Sometimes you may disagree and you won't see eye to eye (just remember) Family comes first. Yeah, Yeah, Comes First"