IT'S ALL ABOUT ME!!
Hi, my name is Kathleen and I'm a "family-a-holic" as well as a "family reunion-a-holic"! I have not only one addiction but two…my family and our family reunions.  In the words of Amy Winehouse, "They told me to go Rehab but I said no, no, no…I won't go, go!" 🙂
Since this page is all about me and how I ended up with this website, it is befitting that I first acknowledge and admit my addictions for my family and our family reunions because the first step to recovery from addiction in any form is the simple act of "admitting". No, I'm not in denial! However, I'm not willing to take any further steps of recovery because my addictions are really, in essence, a love for my family that has taken me on an amazing journey, including creating this website! With that being said, here's more about me and how I ended up being the proud owner of All Things Family Reunion.

First and foremost, I am proud to say that I'm a "GRITS"! For those of you who don't know what that means or stands for, it's an acronym for "Girl Raised In The South".  Reared in rural Alabama by my maternal grandparents, I was taught that the two most important pillars in life were faith and family. Growing up in my grandparent's home, my grandfather made sure that we knew our family. There was at least a weekly visit to the homes of my aunts and uncles and numerous visits to other relatives as well. Therefore, far the most part, I knew my family and my relatives. However, as time progressed, many family members migrated from the South. As a result, our family became scattered throughout the USA. Subsequently and sadly, funerals became impromptu family reunion gatherings for my family. As I would attend the funerals, I would reunite with family members as well as meet others for the first time. I always LOVED getting together and spending time with my family. I always parted with such an awesome feeling. I often asked why don't we do this more than just when a family member passes away? Why is it that we can't and don't have family reunions like other families? Little did I know that the answers to my questions were inside of me…and as the proverb goes, "When the student is ready the teacher will appear".
In December 1999, in a church fellowship hall surrounded by so many family members at the repast of an uncle's funeral, I saw family I hadn't seen in years and years. On this occasion, like all the other reunion-funerals, everyone was having a great time of mixing and mingling, hugging and kissing, chatting and chewing, posing and snapping pictures, etc.  Although I was having an amazing time with my family, my mind journeyed back to an earlier time and then my mind fast forwarded and journeyed into the future where I literally saw and envisioned us having an official reunion.
At that very moment I had my "Aha Moment" (that moment of sudden realization, inspiration, insight, recognition, or comprehension) or "Light Bulb Moment"  as Oprah Winfrey taught us.  I told everyone that we were going to have an official family reunion.
I went to my car and retrieved a notebook and begin to pass it around requesting everyone provide their contact information. I vividly recall one of the elder family members asking me, "So who's going to organize it?" to which I immediately replied "me".
From that day forward and for several months, I channeled all of my organizational skills and event planning experience into organizing and planning our first family reunion. The teacher was there to lead and guide me along the way. In July 2000, we had our first ever official family reunion and it was a huge success. Since then, I am proud to say that we no longer spell our family reunion F-U-N-E-R-A-L but               S-A-T-C-H-E-R  F-A-M-I-L-Y   R-E-U-N-I-O-N!
After the first and subsequent family reunions, my family, friends, and others crowned me the "go-to-girl" for family reunion planning.

  They not only commended the organization, creativity, and uniqueness of our family reunions but also began to request my assistance with all components of reunion planning. The most requested assistance was with regard to fun, unique, different, and distinctive ideas that would set their family reunion apart which had become a staple for our family reunions. Additionally, I was constantly and repeatedly told that I had a special gift that needed to be shared with others not only locally but nationally and globally. I was not ready to fully embrace doing something on that scale so I just shrugged it off.

Nevertheless, the teacher continued to guide and to direct me and in 2009 my essay was selected as the grand prize winner of the KFC Ultimate Family Reunion Contest; winning my family and myself national honor as well as the opportunity to experience a family reunion of a lifetime.   Not bad for a little girl from the south whose essay won over thousands of entries submitted nationally and even the most entries ever submitted in that contest.  WOW!!!! What a family reunion we had!! God clearly showed me that I was destined, purposed, and placed in my family for the appointed time and that I truly did have some special and unique that needed to be shared. I never thought or imagined in a million years when I first started our family reunion back in 2000 something as cool as this happening on our family reunion journey. Read about our KFC family reunion experience here.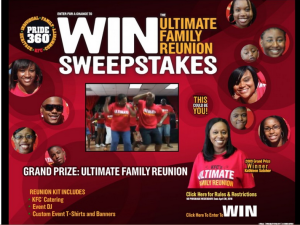 And, then….the pit stop in my personal life … One month after our 2011 family reunion, I was laid off from my job as a Human Resources professional that I had worked for many years. Depressed and emotions all over the place, I started a blog and begin to journal and share my thoughts and feeling about being laid off. Although this proved to be very healing and therapeutic for me;  and as much as I enjoy writing, I honestly lacked the needed passion to continue. Therefore, I discontinued the blog. Ironically, it was while attending the funeral of a family member the following month in September, I was sharing with various family member about my lay off when two family members, Doug & Linda, both begin to really hone and hammer in that I really needed to find a way and tool to market my knowledge and expertise regarding all things family reunion (hint: if you want to know how I came up with the name). Their suggestions ranged from writing a book or manual to starting a blog or website to starting a business, etc. Other family members concurred with them. They all agreed that with the astounding response, overwhelming requests for assistance and positive feedback I had already garnered through the years, whatever I chose to do would be successful.
Because I was now ready, the teacher, again, appeared to lead and direct me. And the rest, as they say, is history. In January 2012, I created this site to share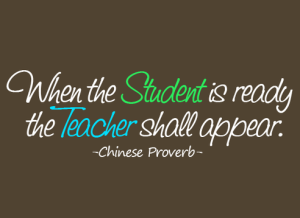 knowledge as well as give inspiration to anyone needing assistance with any aspect of successful planning and implementation of a family reunion with a special emphasis on making your reunion unique. I have complied tons of unique and affordable ideas (all not yet listed on the website) that will give your family reunion the "wow factor". If you are looking for typical, usual, run-of-the-mill type reunion ideas, this website may not be for you.  However, I'm sure you know someone who you can share this site with. Here you will find plenty of information, all based on my research and personal experiences for not only having a successful family reunion but making it fun, unique and different.
The fact that my website is unique and offers resourceful information was solidified after being online less than three months; two unexpected and significant things occurred. First, I was contacted regarding one of my family reunion ideas being featured on a national television show and shortly afterwards, I received an email from the owner of one of the top online family reunion websites commending my site as "an absolute wonderful resource" as well as offering ideas for generating traffic. I am humbled, honored and truly blessed by both of these occurrences. However to know that a website owner of this caliber would take time to reach out to me, the new kid on the block, and not view me as competition, but to encourage and offer advice brought tears to eyes.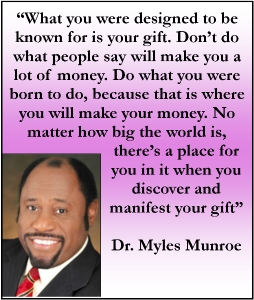 I am reminded of the teachings and writings of Dr. Myles Monroe regarding the scripture Proverbs 18:16 which says "A man's gift makes room for him and brings him before great men". "What you were designed to be known for is your gift. Don't do what people say will make you a lot of money. Do what you were born to do, because that is where you will make your money. No matter how big the world is, there's a place for you in it when you discover and manifest your gift". ~Myles Monroe
I have absolutely no doubt that I'm in my lane, my zone, and my element. Furthermore, I'm confident that I've found the perfect outlet to manifest my gift. I'll be keeping it real here! It has NOT been all wine and roses.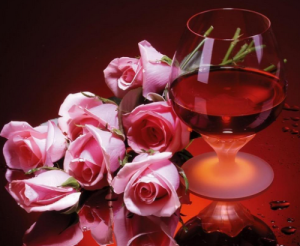 My family reunion journey at times has not been easy. It's been like a curriculum in a classroom called FAMILY. The journey has been a process of learning. I've made mistakes, had my individual assignments, my group assignments, and had my lessons to learn. An important part of sharing knowledge also involves sharing your mistakes so others know pitfalls they should try to avoid. Although my family reunion travels have not been without some challenges, it has been one of the most rewarding things I have done in my life.  I am THANKFUL for all I have experienced…the GOOD, the BAD, the UGLY.  I will be transparent and help you successfully journey down the family reunion path.
I enjoy using my creativity to think outside the box and bring the "WOW" factor.  It gives me an excitement like no other.  So to all of you family reunion coordinators and family reunion planners out there, it's time to get down to business! Put on your creativity hats and let's get to work! Are you ready! On Your Marks, Get Set, Go!! I'm here to help you every step of the way.
Yours in Family Reunions,