Add some ZING with family reunion themes…
Family reunions are always fun, but you can enhance them with a theme. Of course, it isn't necessary, but it will put a little zing into the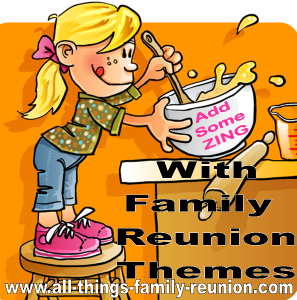 reunion. At least, one that everyone will remember and talk about for years to come.  Simply add some ZING with a family reunion themes.
A theme for a family reunion can become an interest of topic at the next family gathering. It's always a lot of fun to be silly using a theme for any family gathering. The list below will give you a starting point for the next family reunion you have.
Sports (Outdoor and Indoor) Family Reunion Themes
Special Olympic Family Reunion

– is always a fun time to plan for in the summer. Your Olympic reunion will be an exciting time, especially if it happens at the real Olympics time. If your family is outdoorsy, then they will love a theme using the Olympics as a theme.

Baseball Bash

– if you have a family that's crazy for baseball, there is nothing better than having a theme based on this wonderful sport. From the kiddies to the grownup, there's a team for all.

American Football

– there is nothing better than a football game for passing the time at a family reunion. Rent a stadium for the games to commence with hot dogs and Cokes for all. Add a twist and have everyone represent their favorite NFL team by wearing their team's jersey.

Soccer Soirée

– soccer is another wonder pastime for many who enjoy the game. The teams will wear themselves out working for the family World Cup. It's fun for all, even if they don't play soccer. There are many activities that can be included with the game.

All Roundup Sports

– a full roundup of all the sports your family will enjoy. Football, baseball, baseball, soccer, and even volleyball can be included in a family reunion which includes all sports for all team players. Try to get a team to play football with a soccer team. The results will be amazing.
History Family Reunion Themes
Show Your Roots

– take your family back to their roots with a family reunion theme showing the history of your family. You can include photos, mementoes and all the stories that have been passed down through the ages. Use a giant tree to take a walk through the history of your family from your ancestors to the families of today.

Ancestral Home

– if you have land and a home that has been passed down you can hold your family reunion on the property and take them through the history of your family. Start from the beginning of your family's property and bring them into this century.
Food & Fun Family Reunion Themes
The British Are Coming

— you don't have to have a British background to throw a family reunion with a British theme. You can use period costumes or any of the themes such as the Beatles, Rolling Stones, etc. You can add in the food from fish and chips to tea and scones to the wonderful tea parties.

Mexican Fiesta

– an authentic Mexican family reunion can be a wonderful tradition for a family reunion. The costumes are colorful and the food is divine with a tortilla toss to a nacho cheese fest. The kids and adults will enjoy a piñata and the flamenco is a must for any Mexican gala. Contact a local Mexican restaurant for more help in planning a Mexican fest for your family reunion.

Middle Eastern Cuisine

– Arabians are one of the best sources of culture for a background of a family reunion. They have camels, sand dunes, and pyramids, not to mention the Shawarma, kebobs, and lamb dishes served for a dinner fest you and your family won't soon forget. You can dress in the popular Arabian-inspired clothing from the movies or use the traditional dress with all the colors of the rainbow.

Hawaiian Luau

– A Hawaiian themed family reunion is one of fun from the Luau to the Hula dance. The roasted pig and tropical fruit are always enjoyable and when you include seafood from Hawaii, you won't be able to stop eating. The Hawaiian shirt contest for the best Hawaiian shirt is a must for any family gathering. The grass skirts and leis make the scene the perfect tropical island getaway for a family.
"Seasons for All" Family Reunion Themes
Holiday Heralds

— choose a holiday to host your family reunion. You can't go wrong having a family reunion during Christmas. Every family has their own traditions at Christmas and all can enjoy the new members as well as the old member of the family while sharing the yuletide tradition with all. The children will love the theme, of course, but so will the adults as they share the spirit of Christmas and the joys of family traditions.

Christmas From Around The World

– almost every family these days has a member from another country. Use the different types of traditions from their country for your family reunion. For example, use the Dutch Christmas, Italy, or Greece traditions for food, fun and festivities and combine them with American traditions. Add activities from each country and you have an international Christmas you won't find anywhere else.

Fall Troll Festival

– in certain areas of the globe there are troll festivals in the fall. Use the autumn to bring in the winter with your family. Using fall for your family reunion will bring together all members with memories of Thanksgiving, Halloween, and fall hay rides with mounds of leaves burning in the wind. Trolls are known for family gatherings.

Use the Eggs

— Easter means family and what better time to have a family reunion than at Easter. You can have several Easter egg hunts, scavenger hunts, and any other type of fun and games to keep everyone amused. Plan your reunion around Easter services, potluck meals, and an outdoor BBQ for everyone to enjoy. Don't forget the ham and eggs for dinner.
Anniversaries, Birthdays, and Other Special Days Family Reunion Themes
Wedding Anniversary

– parent's anniversaries are one of the best times to have a family reunion, especially if it's a Silver, Pearl, Golden or Diamond anniversary for the parents. You can celebrate both the family get together and their lives together, the parents, that is. Plan all the activities around the anniversary but keeping with the theme of the anniversary and the family reunion.

Birthday Bash

– someone's birthday, especially if it's an older relative that won't be around too much longer is the perfect time for everyone to pay their respect one last time. You can use a theme that coincides with their hobby or sport. You can include a lot of trivia questions type games and touch on their life and what they have accomplished.
Sounds, Circus, and Theme Parks Family Reunion Themes
60's, 70's, and 80's Sounds

– use the music from any era that takes your fancy or your family's fancy. You can go with the Big Bands to Hip Hop of today. Whatever floats your boat or sounds good to the ear. All the family members can dress in the period you choose to match the sound of the season. Everyone will enjoy going back in time to the twist, waltz, and the teddy bear dance. And let's not forget the Jerk and the Monkey to the Hustle to Breakdancing. Add a dance competition including prizes and you have a winning combination for a great family reunion.

Karaoke is Always Fun

– everyone loves to sing their favorite songs and what better than a competition with everyone singing their own songs to the music they love. You can have bands, solos, and other fun with singing to the sound everyone loves. Even the elders will love to sing their old time favorites.

Flying Trapeze

– put together a circus theme for your family reunion. Everyone from the babies to the elders love clowns, animals acts, flying trapeze artist, and contortionist in your backyard or a big park for your every own circus. You can even hire a circus for your family reunion.

Disney Delights

– Disneyland or Disney World have charmed the young and the old for many years. What's better than having a family reunion at one or the other? Of course, it depends on which one is closer to all family members, but they will all enjoy taking a trip through either park. At the home front, they can all dress as their favorite Disney character while performing in a local park or in the backyard. You can even have your own "Pirates of the Caribbean" right in your own backyard. How many Captain' Jacks will enjoy the day?

Use The Family Talent

– All members of family have talent and having a talent show they can show their stuff! You can have the kid's talent show one day following with different ages on different days. Everyone has fun showing their talent and receiving prizes for the best of the best.
 

African American Family Reunion Themes
Gospel Galore and R&B –

Don't forget to add the Gospel and R&B to your themed family reunion. The African American community has always been musical. Honoring your family with a theme of gospel and R&B artists and music is an excellent way to add to your family reunion. Add music from the Jackson 5, Boyz II Men or Prince and some good old and new school gospel music. You can hand out CDs from all the music your family remembers.

Black Greek Letter Organization

– many African American families belong to Black Greek Letter Organizations. Add some fun to your get together by having family members don their t-shirts, hats, and other memorabilia. Further enhance the fun by incorporating a step show.

Down Homey

– use the state your family comes from to have a down home theme family reunion. You can play games and take a walk through your family's history and talk about how you evolved throughout the years. Have food that meets the times and the region where your family came from. Take a journey with your family's roots and celebrate living in today's world.
I hope you got value and inspiration from this post. Your feedback is welcome. Please leave it in the comments below.