There are family reunion ideas and then there are "Unique Ideas"!!!!
If you're looking for creative and unique family reunion ideas, TOUCHDOWN!
Below, I've listed a few unique reunion ideas that are sure to add meaning and purpose to your next family reunion. Please note, this is just a few! I have several more ideas to add here. However, I am well aware that the reunion season is fast approaching and people are searching the internet for ideas and reunion information. Therefore, I wanted to at least get a few of the ideas on the site to assist you with your planning. Each one of the ideas listed have been incorporated and integrated into my family's family reunions which has truly amplified the meaning and value of our family and family reunions.
So, please enjoy this mini list of ideas, in the interim. However, please be sure to check back as I am adding new content regularly. Also, please be sure complete the form on the right side column of this page and subscribe to "It's A Family Thing Express, my monthly newsletter…that way you want miss a thing! ENJOY!
Family Reunion Forecast
Have a Family Reunion Forecast outlining the reunion itnienary and activities that will occur over the next few days in a weather forecast style. Do this on the first day of your family reunion, preferably at the "meet and greet" function. This can be done either as the welcoming address, after or in conjunction with it. Have your reunion meteorologist to provide a brief forecast each day. For example, you can start your forecast with something like, "Starting tonight you can expect showers of family love and togetherness at our Get Acquainted Reception. Saturday's forecast will include high temperatures of family fun and unity…. In addition, you can create a family reunion meteorologist board displaying the events and activities that will take place thru the span of the reunion.
Family Reunion Song
Create and/or write a song unique and specific to your family…Or you can just adopt the tune of a well known or familiar song and change the lyrics. Since 2002, we have been singing our family song to the tune of "Oh When The Saints Go Marching In". Our song simply says, "Oh, When the Satcher's Go Marching In". You would think we were in church. At our last reunion, the song leader took it to a different level by engaging a pep rally like competition by pointing to each table, having each table to stand and sing the song, as each table tried to sing the song louder than the other tables. The winning table was chosen by a round of applause and each person from the winning table received a gift. Click here if you're looking for a listings family reunion songs
Family Pledge
Create a Family Pledge for your family. I actually wrote the pledge for my family back in 2007 and it has been a staple at each family reunion ever since. During our banquet, the youth in our family actually lead the rest of the family into repeating our family pledge. In addition, it is always included in our family reunion journal. Here's a sample of our family pledge… "We the Satcher Family, proud decendants of Oscar & Chaney Groce Satcher hereby pledge allegiance of love and loyalty to all of our family members both near and far; We promise to support each other in our various journeys and endeavors… That should give you the gist of it!
Family Creed or Mission Statement
Create a Family Creed or Family Mission Statement for your family. A family creed will create a sense of team as well as vision for your family. It's simply a mission statement that defines what your family is about as well as the vision for your family. As a mission statement is vital to the success of a company, creating a mission statement is just as important for a family. Fortune 500 companies, nonprofits, and smaller companies alike have mission statements. Mission statements have been directly linked through research to greater returns on investment in companies. When companies have a mission statement as a point of reference, it helps them to stay on track and not lose sight of what their core competencies are. Likewise, a family mission statement will define your family's core values and goals, encourage and facilitate belonging and will guide group family decisions. It will serve as a light when the family gets off track or begins to lose its way. It's simply a road map. Consider getting the entire family involved in creating a mission statement for your family. Do a survey of all family members and get others involved in formulating your family's mission and vision statement. "Without a vision, the people perish." ~ Proverbs 29:18~
Message Book
Create a Family Reunion Message Booklet or journal. This is a booklet where family members write their thoughts, well wishes, regards, etc regarding their family and/or the family reunion itself. If your family reunion spans several days, you can section and divide the booklet up by days and perhaps each day have a different topic or focus i.e. Friday, "What my family means to me", Saturday, "What I love most about my family", Sunday, "Why everyday should be a family reunion?". Ask and encourage family members to write down their sincere thoughts and sentiments. During your last function, place the Message Booklet on display for everyone to view as well as pass the booklet around so everyone can read the messages. In addition to this, after our reunion was over, I complied the messages into a spreadsheet and sent it out both via mail and email so everyone could see the beautiful messages that were written by each family member. I'd like to share one of the many beautiful messages from one of our message booklets. "I love my family because you loved me when everyone else turned against me, even when I was unloveable…you all never gave up on me until I found my way again…"
Memory Book or Memory Album
This is a great post reunion idea and an excellent way to create lasting memories! After the family reunion, have everyone submit their favorite photo or photos from the reunion. Take these photos and create a digital photo memory book or album. Then you can sell these as a fundraiser for the next reunion or family reunion fund. Trust me your family members will purchase these books. However, you will have to increase the price to make a profit. Once you find out the total cost for printing each book, including taxes and postage, you can add in an additional amount to factor in a profit. I have created several family reunion digital photo books for my family and other families as well including the Family Reunion Memory Book… and these books sell like hotcakes! Chocolate melts, books don't!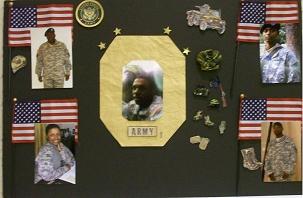 Salute & Honor Those Who Serve or Have Served
Salute, honor and pay special tribute to family members who are serving our country and/or have served our country. They certainly deserve the highest honor and the highest praise. Without hesitation they put our country's protection on the top of the list of things to do. They are true heroes. I was elated and my heart leaped with joy back in October 2011 when President Obama announced that the nine year War in Iraq was coming to an end and our troops were coming home. Beginning in 2005, we begin a special recognition to honor and salute our family members who were serving. We set up a display table which was decorated in patriotic colors which had photos of each family member who was serving. In addition, on our banquet night we had the hotel to set a banquet table for them. No was allowed to sit at that specific table. During the banquet program, a special acknowledgment was given for each family member serving and an explanation regarding the empty table. Also, a page was included in each family reunion journal showing their photos as well as a special salute. We called ours "A Special Salute to Satcher's Serving". The photo above is the our Military Honor Board which my sister designed and created for our last reunion. It was displayed on a floor easel at every event except the picnic!
Sweepstakes Contest
This is certainly one of the gems of our family reunions. In 2005, we started the "The Satcher Family Reunion Sweepstakes Contest". The first fifty(50) adults to pay their reunion fees in full are entered into the Satcher Family Reunion Sweepstakes. 1st prize=$100, 2nd and 3rd prizes=$25 Walmart Gift Card. The drawing takes place at our Family Heritage Banquet. This is not only a great way to initiate excitement about the reunion but it motiviates family members to get their reunion fees paid early!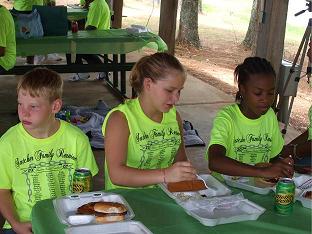 Coloring Contest
Calling all artists and coloring stars! Or should I say, mini-artist! For our little ones ages 2-5, we have coloring contest. We simply use one the family specific coloring pages located in their kids activity booklets. With some pre-planning, actually you could have the parents forward actual photos of the little ones who will be attending the reunion and make coloring pages or sheets using their images. Be sure to award the these little mini coloring artist as well as display their colored pictures. Click this link to find out how you can create really cool, one-of-a-kind family or family reunion specific coloring pages like the one below.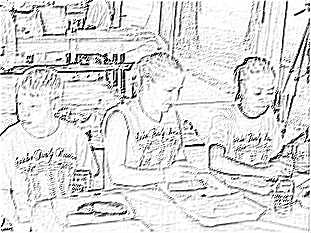 In conjuction with the Kid's Activity Booklets which is detailed in the link above, a creative way to entertain the children is to set up what I call a "Kid's Activity Village". I will be detailing more information about this on a separate forthcoming page on the website. However, the basic concept and idea is a set up a special and separate area, a little village, so to speak, specifically designated just for them. This village is supplied with coloring books, crayons, games, etc. Now, of course, you'll need to assign someone to coordinate and supervise the village :).
Poster Contest
A poster contest is great idea for a family reunion. My family members ages 6-8 are invited to enter our poster contest by creating a poster interpreting the theme "I Love My Family". We have 1st, 2nd, and 3rd place winners. Be sure to display the posters at the reunion.
Essay Contest
An essay contest is wonderful idea to integrate into a family reunion. For my family, we actually have two essay contests. One for ages 9-12 (100 word essay) and one for ages 12-18(200 word essay). The last essay theme was "What the Satcher Family Reunions Mean to Me". We provide monetary prizes for this contest. You will have to formulated and develop rules and guidelines.
Creative Face Painting and Body Art Idea!
Click this link for information on an ultra unique creative face painting and body art idea for your next family reunion! Fun and meaningful for all ages!
The Mic Is Open! Open Mic Family Reunion Idea!
An open mike or open mic is a live show where audience members may perform at the microphone. Incorporate an Open Mic into your next family reunion by opening the mic for family updates by allowing family members to take the mic and personally share their updates, good news, etc with the family…marriages, anniversaries, births, promotions, graduations, scholarships, honor roll, etc. There's nothing quite like being applauded, encouraged and celebrated by one's own family. If you've ever attended an actual open mic generally each presenter is applauded. After all is it not the responsiblility of a family to congratulate and celebrate its own. A creative way to applaud and celebrate your family members accomplishments!
Family Reunion Decorations Ideas
Click here for Family Reunion Decorations Ideas, and corresponding activities for a great time.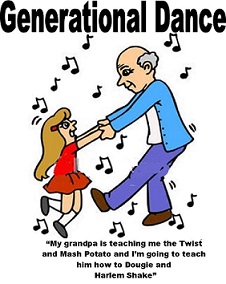 Generational Dance
Each generation has had its own unique dances and moves! Here's a fun idea to get each generation dancing and having a great time! Have a Generational Dance Night or simply incorporate a Generational Dance into one of your family reunion events. Family members from each generation simply share the dances they did in their generation and teach them to the other generations. You'll need to coordinate with your DJ to ensure you have music and top songs from each generation as this will set the mood and tone. Also, be sure the DJ mixes slow and fast. This will leave your family members not only laughing and smiling but snapping their fingers and humming their favorite tunes throughout the event and after.
Fingerprint Tree
Everyone is raving about Fingerprint Trees. This is a very unique idea and alternate to the traditional guest book. They are most popular for weddings. However, they are perfect for any special event with friends and family, including milestone birthdays, anniversaries, baby showers, corporate events, etc, but especially a family reunion. You will need to display a instruction card next to the tree that simply says "Please leaf your fingerprint and sign your name".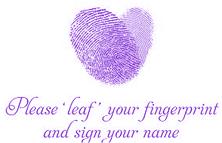 You basically make a leaf with your finger print. What an awesome and terrific way to preserve not only memories but family history as well. All of the leaves are the actual fingerprints of family members. Family members will literally (leave) their mark. This is truly something that can be passed down from generation to generation. Additionally, this would be a great post reunion fundraiser. Be sure to include some wet wipes and a cute little trash can next to the tree. You can use colorbox ink as it does not stain your fingers or washable ink is another option. You can instantly create, personalize, and instantly download fingerprint trees yourself by clicking this link.  

Lights…Camera…Action! Roll Out the Red Carpet! …And the nominees are " your family members"…that's right…why not celebrate your family in a royal way. Besides, red carpets are no longer for your highest, celebrities or the rich and famous. Today red carpets are used at many non-royalty or celebrity events like birthdays, weddings, anniversaries, grand openings, etc…any celebration you can name. Why not for a family reunion? So go ahead, treat your family to a red carpet experience where they have their pictures taken like real celebrities. Set the stage, turns the lights on, and let your family members flash their smiles, style, and profile on a step and repeat. Let them become celebrated celebrities, at least within the confines of their family. This is a great idea and will serve as interactive station for your family members.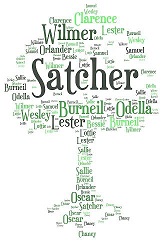 Click here to check out this unique and creative Family Tree Art!!! Will definitely add a creative twist to your family reunion.
I hope you got value and inspiration from this post. Your feedback is welcome. Please leave it in the comments below.